Alain Rabineau took over Jeantôt Marine in 1996, a shipyard founded in 1985 which built sailing catamarans, Privilèges, and power catamarans, Euphories. Alliaura Marine has been shaped by several shipyards, and around a family of devotees. I have disabled the link because they have problems. I'm sure someone will contact me when the site will be back again. That's the reason I have inserted here a map with the place they're shipyard can be found, at Les Sables d'Olonne.

Just scroll, zoom, transform the view type, whatever.

They have a network, presented on the web differently, because they are French. What they make is presented separately on other four sites, in the following order: Privilège, TransCat, Feeling and Tresco Line. [Update October 2015: I'm not sure the sites exists anymore :)]
The following models are manufactured under Alliaura's wing.
Privilege 445, Privilege 495, Privilege 515, Privilege 615, Privilege 745, Privilege 1000
With a LOA of 13,45 m (44′ 12″), a Beam of 7,07 m (23'20"), a Draft of 1,35 m (4'43"), and a Displacement of 8,9 tons (19,620 lb), the Privilege 445 has a 2 x 40 HP Diesel engines
As it isn't hard to guess, the Privilege series is named after their LOA in Feet.
Privilege are sailing catamarans, TransCat is a single model, TransCat 48, and it is a motor catamaran, with LOA of 14,87 m(48'78"), a Beam of 6,58 m (21'6″), a max draft of 1,23 m(4'03"), the gross displacement 18 tons (39,682 lbs) with 2 x 230 HP Diesel engines, 4 cabins.
I have a better than good opinion on catamarans, especially the sailing ones. They are more stable, you'll be less imbalanced taking turns, as a friend once said, actually he had his own stuff, a catamaran is like a house on the water. Considering a sailing yacht takes more inclined turns, than my friend was right :). Only the catamarans are not cheap at all. Start calculate prices from over €160,000 up!
As for Feeling, the sailing yachts Alliaura brand, they make Feeling 32, 36, 39, 44, 48, 52 and 55. With an elegant line, the, the longer of them all, the Feeling 55 is luxurious enough, considering the price of over €650,000 the 2011 model. In a matter of yachts, I'm telling you from experience, there isn't a "second hand rule", as like you bought a new one with a price, and then sell it in a month with a smaller price, because it's second hand. You may not find a new desired model, so you buy what you find. Usually one could wait for more than a year, to get his desired boat from it's chosen manufacturer. A yacht owner more than not, improves his yacht in time. Only in Turkey this is not true. An old yacht is usually so worked out to pay for it's built, letting no penny to be reinvested. Every two years, maybe, a re-fit, and that with a minimum expense.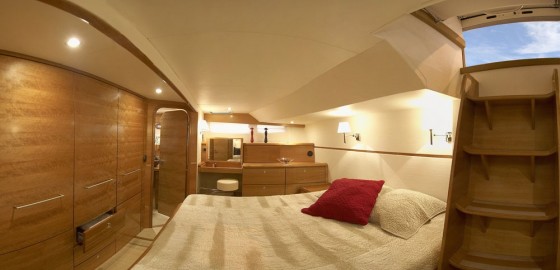 The above one is an optional layout, the standard model has only two cabins.
At 16,80 m( 55'1″) LOA, the 55 is too expensive for my taste. I know, it's a "designer stuff". If they can afford this sort of prices, they're good indeed. Not many posts left to my all time favourite model, which is a sailing French one. Maybe you know which one, if you read this blog. If you need any form of consulting, don't be shy, drop me a mail. Never forget to check my friendly hosting offer. Drop a comment, it'll be to your juice.
Tresco Line, the fourth brand under Alliaura, is actually a speed boat manufacturer. They have a few models as well, and their look is quite dynamic, as you see.
In the end, please enjoy this video of Feeling 55.
There is a distributor there, as well.
If you like what you read, please subscribe to this blog by completing the form. If you want to help more, start by following us on Twitter, on Google+ and like our page on Facebook. You don't know what good things may happen. To lighten your day, check our pins on Pinterest, we can be friends there too. Oh, and if you need a really good looking blog attached to your site, or just for fun, or to express your feelings more competitive, read this Own Your Website offer! Thank you very much.
Copyright © 2012 The Yacht Owner – Alliaura
If you liked this article, tell someone about it